Anglo-Irish Acoustic Pop duo The Portraits, aka husband and wife songwriters Lorraine and Jeremy Millington from Galway and Bristol respectively, reached no 2 on the main iTunes chart, and no 24 on the Christmas Day UK Official Charts Company Download Chart in December 2020 with their version of 'Together In Electric Dreams' featuring a locked down choir and orchestra from Somerset, UK. It was released in memory of all those lost during the pandemic of 2020 and was featured on ITV's This Morning, BBC Radio 2's Steve Wright In The Afternoon and Channel 5's Jeremy Vine, and received the backing of Stephen Fry, Midge Ure, Matt Lucas and a host of well-known figures.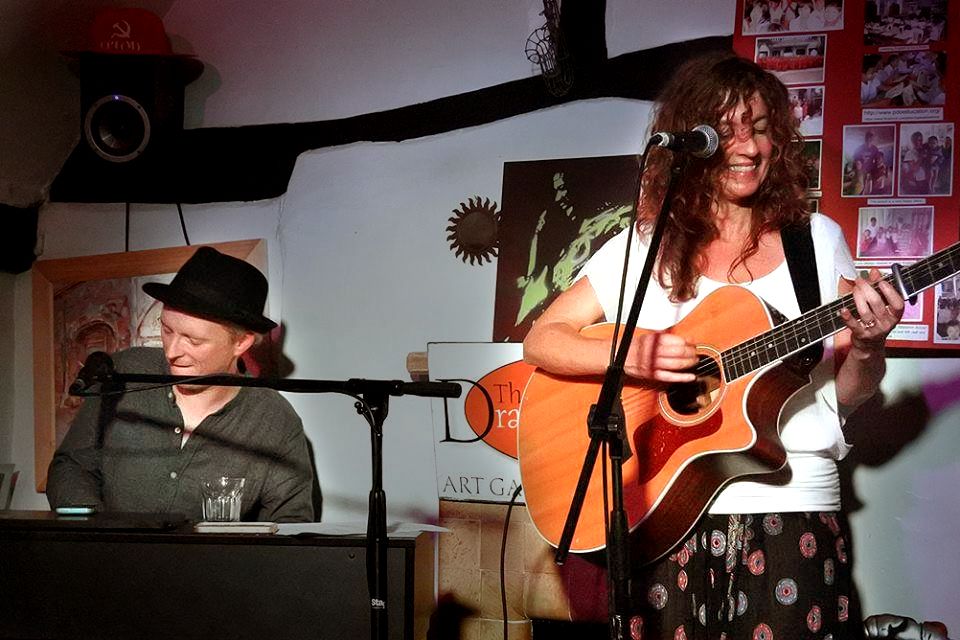 Jeremy and Lorraine Millington met in 1995 when working as teachers at Carisbrooke College in Newport, Isle of Wight, and created a covers duo performing in local pubs on the island, before formalising their musical partnership as electronic pop outfit Sensorypulse. This led to a move to Bristol in 1998, where they became involved in the burgeoning dance music scene built around the 'Bristol Sound', a blend of laid back electronic beats and orchestral samples as espoused by Massive Attack and Portishead.
Disillusionment with the live music scene led the couple to turn their backs on their life in Bristol in 2002 and move to La Rochelle, France, to renovate an ancient townhouse in the hope of setting up an arts centre there. However, within weeks of their arrival, they were welcomed into a local community of folk singers of French, British and Irish origin, centred around the town's Corrigans pub. This had a significant influence on the Millingtons, leading them to experiment with a far more stripped back, straightforward songwriting model, influenced at once by the French storytelling 'chanson' style and by the loss of Jeremy's father Graham Millington in 2004 which Jeremy described as having "a profound impact on the way I wanted to express myself, directly and without sonic padding".
Since 2006, when they launched their first new music under the moniker The Portraits, they have released 8 studio albums and a handful of singles. Their increasing self-sufficiency in the management and production of their music has led to them recording, mixing and mastering all their material in their home studio. Recently they have branched out into production for other musicians, notably their daughter Ciara Mill whose song Isolated, described by Wells Voice magazine as "a lockdown lament", featured in the short film Covid and Me, funded by Dorset Council (UK) and produced by SilvaKing productions.
In a career marked by long periods being overlooked by the media, the duo have nonetheless enjoyed moments in the spotlight, notably surrounding singles released alongside campaigns and causes. Prior to 2020, most notable of these was perhaps The Rest Of Time (2014), a song released in association with organisation Delete Blood Cancer/DKMS to raise awareness of the need for people to sign up to the Stem Cell donor registry. The single received considerable airplay on BBC Radio 2 and BBC Radio 6 Music, with presenter Tom Robinson describing it as "the strongest track I've heard from The Portraits to date with its township-meets-English-folk vibe".
In 2017, the single Nobody Can Ever Murder Love was released to mark the murder of British politician Jo Cox and led to an invitation by BBC Radio 2's Clare Balding to perform the song live on her show the following year. The song was the duo's instant reaction to the horror of Jo Cox's murder in June 2016 and was played on Good Morning Sunday on BBC Radio 2 in November 2016. Clare Balding loved the song so much she invited The Portraits to play and chat about the song live on 23rd April 2017. After the performance, Clare said "That is so beautiful. It is so powerful. And sitting here watching you do that together is a real privilege. And it's had a real impact. I just think it's the perfect tribute to Jo Cox and everything that she tried to achieve, and is still achieving because of what people do in her memory." A home-made live video of the song had been uploaded to The Portraits' Facebook the day after Jo's murder and received some 20,000 views practically overnight. The song was released at a time when the duo felt the UK needed to heal from the division caused by the vote to leave the European Union, and when they wrote it Lorraine and Jeremy hoped that their song would play a small part in the continuing fight against hatred as espoused so beautifully by Jo Cox. 
2019 saw The Portraits play at Glastonbury Festival for the sixth time, and complete work on their eighth studio album For Our Times, released 25th October 2019. The new album of songs was entirely created in the duo's newly adopted hometown of Wells, Somerset, from conception to mastering, and drew on the talents of young musicians from the city's main secondary school. Songs from the record have been championed on BBC 6 Music by Tom Robinson, who has described the duo as 'Irresistible and Irrepressible".
'For Our Times' is an album of 13 songs about the divisions in politics and fortune which echo through today's world. The album cover and photography also came from local designer Andy Jennings and photographer Neil Juggins. Reviews have been very favourable, with Fatea Magazine referring to it as "Two beautiful people exuding warmth and kindness, while presenting us with a masterpiece. We all need more of this" and Dirk Scarlett on his music blog noting "This is a truly intelligent album. Bright & inviting but simultaneously complex and thought provoking. Some of the subject matter is intense, but the quality of the music that underpins it is always first class, usually anthemic in some way and always, always clever. 10/10 - cannot recommend highly enough."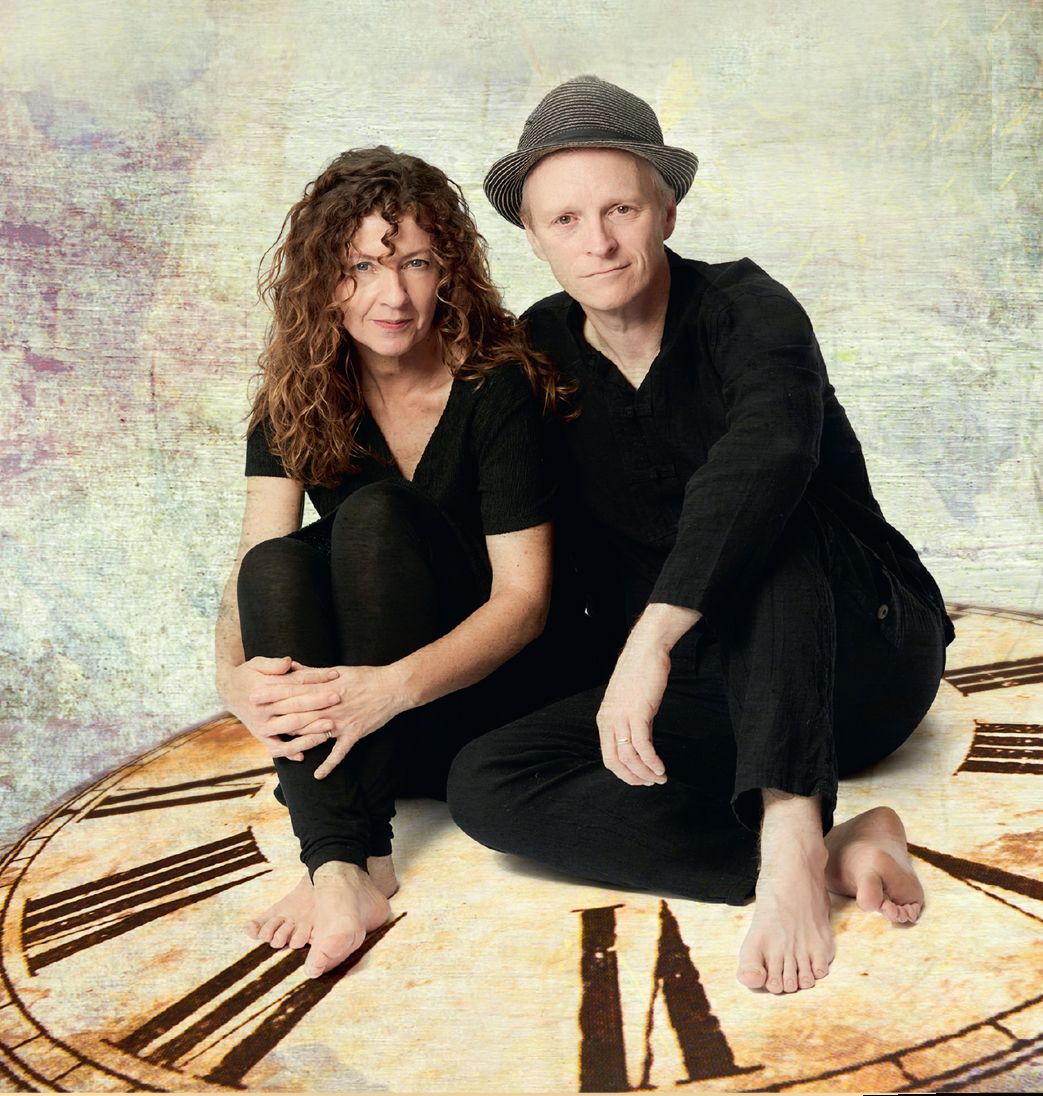 Amongst the tracks are singles 'Harmonise', based around dozens of video selfies sent in by the duo's fans and community all calling for unity in a time of division, and the follow-up 'Except For Me', the heartbreaking story of a young woman sent to one of Ireland's Mother and Baby homes to have a baby out of wedlock, picking up the mantle from movies such as 'Philomena'.

In other areas, the duo have donated much of their proceeds from CD sales and concerts to a school in Burma/Myanmar, including the sum of £5,000 sterling raised through a mad dash by the duo around the UK in the early Autumn of 2016 armed with their songs about the country and a home-made Burmese curry which formed the basis of a series of highly memorable House Concerts. The Portraits earned several thousand dollars for the school in a subsequent House Concert tour of Canada and the USA in 2017. From Jeremy and Lorraine: "The charity we support is a fantastic school for disadvantaged children called 'Phaung Daw Oo School' in the Northern Burmese town of Mandalay. It is such an inspiration - with a backdrop of the last 50 years of political oppression, this school has scooped up thousands upon thousands of children orphaned by war and famine, and not only saved their lives by housing and feeding them, but against the odds has attempted to teach them the art of free thought, which in a brutal police/army state was one seriously dangerous and difficult task to achieve. The head, a fantastic Burmese monk (although I should say he rescues children of all religious backgrounds and there is no enforced religious indoctrination in the school) has put his own safety and financial stability at risk for two decades to guarantee these kids have a route out of their desperation and our Global Heartbeat album contains many songs inspired by him and this incredible nation of resilient, beautiful people who may now - WE HOPE - have a taste of the freedom they so badly deserve."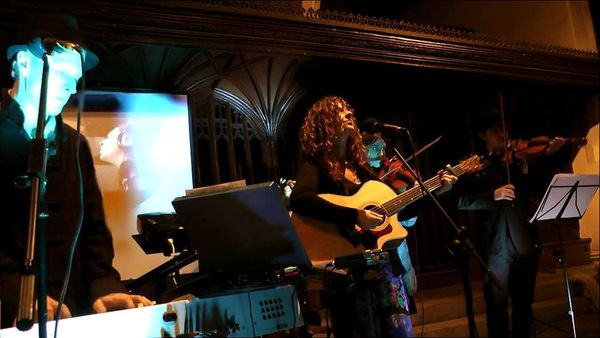 "Immensely touching."
STEPHEN FRY, WRITER AND ACTOR
"What a talented family!"
MIDGE URE, MUSICIAN
"5 stars out of 5!"
STEVE WRIGHT, BBC RADIO 2
"Irresistible and Irrepressible!"
TOM ROBINSON, BBC 6 MUSIC
"Very, very moving...beautiful."
EAMONN HOLMES, THIS MORNING, ITV
"Very touching and uplifting."
JEREMY VINE, CHANNEL 5
"That is so beautiful. It is so powerful. And sitting here watching you do that together is a real privilege. And it's had a real impact. I just think it's the perfect tribute to Jo Cox and everything that she tried to achieve, and is still achieving because of what people do in her memory."
CLARE BALDING, BBC RADIO 2, FOLLOWING THE PORTRAITS' LIVE APPEARANCE ON HER SHOW PLAYING JO COX MP TRIBUTE SONG 'NOBODY CAN EVER MURDER LOVE'
"Sensitive, soulful and sublime. Genius."
JUSTINE GREENE, BBC RADIO 2

"Two beautiful people exuding warmth and kindness, while presenting us with a masterpiece. We all need more of this."
FATEA MAGAZINE
 
"I've always admired The Portraits."
NIGEL STONIER, MUSIC PRODUCER
"The Portraits should be musical royalty"
DIRK SCARLETT BLOG
"So beautiful."
ALEX LOVELL, BBC POINTS WEST

"It's always gratifying when musicians you meet and like turn out to make excellent music – as in the case of The Portraits"
TOM ROBINSON, BBC 6 MUSIC

"Can be summed up in one word...Epic."
FOLK LONDON
"[For Our Times is] An exceedingly charming record....The perfect opening act for the likes of Thea Gilmore."
PETE WHALLEY, GET READY TO ROCK

"Sublime...defiant yet fragile folk-pop."
R2 ROCK N REEL MAGAZINE

"'Lions and Butterflies' is an album of sublime music, rock solid social commentary and sheer beauty. One to beg, steal or borrow."
FATEA MAGAZINE

"Lions and Butterflies is an album which has been lovingly crafted and one that demands repeated plays."
LAUREL CANYON

"Haunting….more overtly political than Jeremy Corbyn"
ACOUSTIC MAGAZINE

"Bright and richly melodic...easily alluring."
KEVIN T. WARD, SHIRE FOLK

"The Portraits deserve to be recognised."
DANNY FARRAGHER, FOLKALL
"'Walls Of Silence' should be in the charts! Great song!"
MIKE BROCKEN, BBC RADIO MERSEYSIDE

"Ultimately, 'Lions and Butterflies' is an album of hope. I liked this, and you will too"
FOLKWORDS

"The utterly beautiful Walls Of Silence (from Lions & Butterflies) grabs you within the first two seconds. The only problem with the song is that it is too short!"
PETE PHILLIPS, CHOICE RADIO

"Powerful Stuff.... It needs to be championed!"
FOLKING MAGAZINE

"Crying out to be listened to."
FOLKCAST

"'Lions And Butterflies': The song writing, the lyrics, the musicianship are all supreme....strikes the deepest confines of the soul."
DAVID DURANT, BROOKLANDS RADIO

"'Lions And Butterflies' is a roaring but beautiful record"
IAN CHAMBERS, EAST LONDON RADIO

"'Counterbalance' is a classic album of future proto folk protest songs. Well worth listening to."
ROCK SOCIETY MAGAZINE

"'Counterbalance': A collection of fantastically composed tracks."
HELEN EARNSHAW, FEMALE FIRST

"Proudly partial, committed and defiantly determined to sing about the things they care about...upbeat, uplifting...heartfelt." 
FATEA MAGAZINE

"Counterbalance is an extraordinarily beautiful album. Music for the mind."
PETE WHALLEY, GET READY TO ROCK

"Counterbalance is...a must for your CD collection." 
DAVE GILSON, PRESTON FM