House Concert Tour - apply now for your home!

The Portraits regularly play house concerts, where they bring their music directly into the homes of their fans. In fact, the band say it is one of their favourite types of concert. All sizes of homes are considered - the more interesting and original the proposal, the better! If you are interested in inviting the band to play in your living room or garden, you can apply using the form opposite.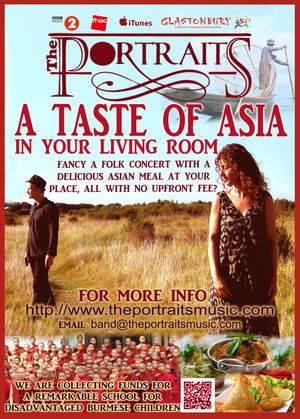 In September and October 2016, they played a series of UK House Concerts in aid of a school for disadvantaged children in Burma, bringing with them to each event a delicious Burmese meal, all for no upfront fee: just the chance to play to a good group of music-lovers, share their musical stories of Burma and collect funds in a hat at the end for this remarkable country.

And this is how it usually works. The band will play in exchange for a good crowd of friends, refreshments, donations...essentially, the opportunity to play to an enthusiastic, listening crowd and spread the messages behind their music. No upfront payment is required, merely a willing group of listeners, an interesting location and the chance to pass the hat to cover travel expenses.

Songwriter Jeremy explains: "Our concerts always turn out to be such amazing fun, and we really make friends with our audiences – our gigs are like a two-way musical conversation, and so it is a natural progression for us to play in people's living rooms. There are few limits to where we will travel for a great audience, and we can't wait!"

If we take you up on your invitation to play, depending on the size of your home and the numbers you expect to attend, we will contact you to decide whether the band should come as a duo, trio or bigger group, and whether amplification is necessary, or if a purely acoustic unplugged performance is best. We look forward to hearing from you!